Our Services
To contact us for any of these services, call 1-800-275-7551
ASL Interpreter Referral Service, Inc. has focused on connecting quality Interpreting "Communication Solutions" since 1995 for both those who purchase our services and those who utilize our services. We connect business and organizations with on-site Interpreters 24 hours-a-day, 7 days-a-week. Our team includes over 200 professional sign language Interpreters who serve organizations and businesses not only in New Jersey, but also in bordering areas of Pennsylvania and New York.
ASL Interpreter Referral Services, Inc. emphasizes the importance of servicing the needs of the individual. For example, ASL Interpreter Referral Services, Inc excels at selecting and matching Interpreters with clients based on the Interpreter's skill as it relates to the client's preferred method of communication, i.e.: American Sign Language (ASL), Signed Exact English (SEE), Manually Coded English (MCE), Pidgin Signed English (PSE), Tactile/Deaf-Blind Interpretation, Cued Speech and Oral Transliteration, Minimal Language Skills (MLS) . This is a crucial element of pairing the best Interpreter with the client because of the syntactic differences in each of these methods of communication.
Our Interpreters are screened by the National Interpreters Certification (NIC), the Registry of Interpreters for the Deaf, Inc. (RID), or the Interpreting Educational Interpreters Performance Assessment (EIPA). RID is a national organization that advocates for national standards testing, professional development and promotes a code of professional conduct among its Interpreters.
In addition to our in-house interviewing and other screening processes, all of our Interpreters' credentials are verified. We maintain extensive files with their qualifications, certifications and insurance documents.


Request Services
or call us at 800-275-7551.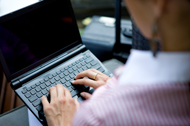 Follow us!
---